Rehearsals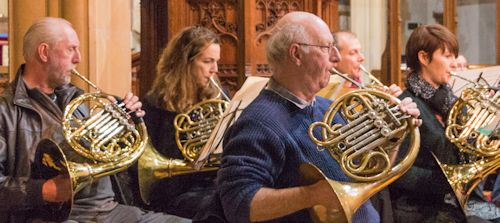 When and where do we meet?
Rehearsals are on Mondays at 7.30 pm, for two hours at St.Aldhelms Church, St Aldhelms Road, Branksome, Poole, Dorset. There is ample car parking close by.
We play throughout the year, but with breaks corresponding approximately with the school holidays.
Current term rehearsal and concert dates
All are on Mondays at St.Aldhelms church unless otherwise shown.
Autumn term 2019.
Sep
9
16
23
31
Oct
7
14
21
28
½ term
no rehearsal
Nov
4
11
18
25
Dec
2
9
16
concert
Future term dates
Spring 2020
Monday January 6th to concert on March 30th [half term February 17th]
Summer 2020
Monday April 20th to concert on July 20th [half term May 25th]
Dates have yet to be confirmed by the Church Office.
What do we play?
The Orchestra plays varied items from the classical repertoire. Selection of the program is by the conductor, but taking account of suggestions from the players.

We own a library of scores, including many of the major symphonies. Other music is hired as required.

The program may include an invited soloist, performing a work of their choice.

The Orchestra tries to maintain the full complement of string and wind players that would be found in a standard orchestra. There are currently about 50 members.
For details of any vacancies, follow the link to vacancies.